Obama honours Afghan helicopter crash fallen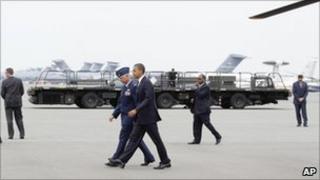 President Barack Obama has visited a US air base to honour 30 US troops killed in an Afghan helicopter crash, as their bodies were repatriated.
At Dover Air Force Base in Delaware east of Washington DC, President Obama met the troops' families in private.
The visit was not announced on the president's official schedule.
The Chinook helicopter was apparently shot down by Taliban insurgents, in the deadliest incident of the decade-old US-led Nato war in Afghanistan.
Many of those killed in Saturday's crash were members of Seal Team Six, the elite special forces unit whose members undertook the May raid into Pakistan that killed al-Qaeda leader Osama Bin Laden.
Also killed were seven Afghan commandos and an Afghan interpreter. The twin-rotor Chinook helicopter was on its way to aid other coalition troops in a battle with insurgents.
Mr Obama's visit to Dover Air Force Base on Tuesday was not announced in advance for security purposes.
The Pentagon refused to allow media coverage of the return of the flag-draped coffins.
On Monday, the Pentagon said the crash was not a "watershed" event that would change US strategy in the war, and Mr Obama vowed the US would press on in its campaign against the Taliban.