George Soros' Brazilian ex-girlfriend sues him for $50m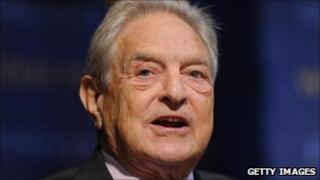 A former girlfriend of billionaire investor George Soros has sued him for $50m (£30m), claiming he slapped her and broke promises to buy her a New York apartment.
Adriana Ferreyr, 28, alleges Mr Soros twice during their five-year relationship said he would buy her a home, only to renege.
The Brazilian soap opera actress filed the lawsuit in Manhattan on Wednesday.
A spokesman for Mr Soros, 80, said the suit was "completely without merit".
"This is obviously nothing more than an attempted shakedown targeting a wealthy man," Michael Vachon said in an email to the BBC.
"Ferreyr has targeted Mr Soros with a baseless lawsuit."
'Dream home'
Ms Ferreyr's lawyer, Robert Hantman, told the Associated Press news agency the decision would ultimately rest with the court.
The lawsuit filed by Ms Ferreyr, and seen by the BBC, accuses Mr Soros of "a malicious campaign of extreme and outrageous harassment and intimidation", and inflicting emotional distress, battery and fraud.
She accuses the financier of promising in January 2010 to buy her an apartment on an upmarket block on the Upper East Side of Manhattan - her "dream place to live" - worth nearly $2m.
Mr Soros arranged to purchase the apartment through a company he controlled, but soon after the purchase closed, Mr Soros broke up with her, she says in court documents.
In June of that year, Ms Ferreyr says, the pair reconciled. Mr Soros told her as they lay in bed that he had given the flat to a new girlfriend.
When she remonstrated with him, he slapped her on the face and "proceeded to put his hands around her neck in an attempt to choke her", the documents allege.
Ms Ferreyr - who is currently studying at New York's Columbia University - called the police during the incident, but no charges were brought, according to the court documents.
'Non-exclusive relationship'
The lawsuit claims that when the pair again rekindled their romance, Mr Soros offered to buy her another apartment - this one worth $4.3m - only to break his promise once more.
Ms Ferreyr said that as a result of this, she had to be prescribed medication because she was suffering from "intense depression and anxiety".
Mr Soros' lawyer, William Zabel, said in a statement emailed to the BBC that Mr Soros once had an "on-again, off-again and non-exclusive relationship with Ms Ferreyr".
But the complaint was "riddled with false charges and is obviously an attempt to extract money from my client, who is known to be a very wealthy man", Mr Zabel said.
He added that the police report concluded "no assault occurred".
Mr Soros and Ms Ferreyr met in 2006 in the Hamptons in New York.
He is worth $14.5bn, Forbes magazine said in March.