Syrian diplomats face US travel restrictions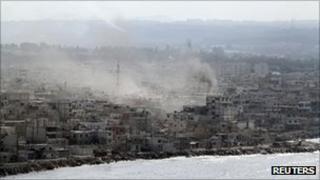 The US has begun insisting that Syrian diplomats seek official permission before venturing outside of Washington.
The restriction was imposed in response to travel restrictions placed on US diplomats by Syrian authorities, a state department official told the BBC.
In July, Damascus began requiring US diplomats to get approval before travelling outside the Syrian capital.
The tit-for-tat comes amid a violent crackdown on demonstrations against President Bashar al-Assad's regime.
The US has continued to step up pressure against Mr Assad in recent days amid his government's ongoing clampdown on dissidents.
New sanctions have been imposed, and Secretary of State Hillary Clinton recently called on states with close links to Syria to cut ties with Mr Assad's government.
US 'strongly objects'
In July, the US and French ambassadors to Syria visited the opposition stronghold of Hama.
One day later both countries' embassies in Damascus were attacked by pro-government mobs.
In a statement to the BBC, a US state department spokesman said the restrictions on Syrian embassy personnel in Washington would be rescinded when US embassy personnel travel outside of Damascus was no longer subject to approval from the Syrian government.
The US "strongly objects to and protests the government of Syria's imposition of these restrictions," the spokesman said.
In response to those restrictions, the Syrian diplomats must now request permission in writing to travel outside of the Washington metropolitan area.
They must submit their requests seven working days in advance of the proposed trip, the US state department said.
Sixteen accredited Syrian diplomats are attached to the embassy, which sits on Wyoming Avenue in Washington, according to the US.
That number included the wives of senior diplomats. It was unclear to whom the travel restrictions applied.
The Syrian embassy in Washington confirmed it had received notice of the restrictions from the US state department.
Cautious diplomacy
Activists say that in the latest attempts to crush the five-month long uprising, troops have detained scores of people in Damascus and the coastal city of Latakia.
The Obama administration has condemned the violence but stopped short of calling for Mr Assad to be removed, our correspondent says.
Secretary of State Hilary Clinton has defended the cautious US response, pointing instead to success in building a chorus of condemnation among key regional leaders such as Saudi Arabia and Turkey.
Turkey has not, however, joined the US and Europe in imposing sanctions against Syria.