Wisconsin Democrats defend senate seats from recall bid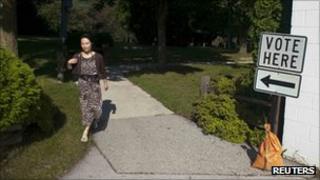 Wisconsin Democrats have successfully defended two state senate seats in recall elections, ending a fight that roiled the US state.
The election came a week after voters there threw out two Republican senators, replacing them with Democrats in a separate recall election.
The Republicans retained control of the senate but saw their majority narrowed.
The recall bids were launched after Republicans pushed through a law curbing labour union rights.
Republicans took control of the Wisconsin state legislature in November's elections, with the party's Scott Walker elected governor.
The party passed a law aimed at limiting public sector employees' collective bargaining rights amid fierce opposition from Democrats, labour unions and their allies.
Nine senators found themselves targeted for recall by angry voters and interest groups inside and outside the state.
The Democrats needed to net three seats to take control of the state senate.
Last week, Democratic candidates unseated two Republicans, and on Tuesday they defended both of their seats.
The Republicans now hold a 17-16 majority in the chamber, narrowed from 19-14 before the recalls began.