Aftershock rattles US east coast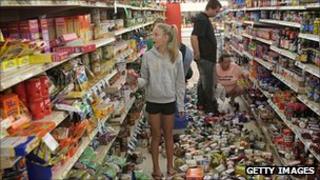 A 4.5 magnitude aftershock has jolted the US east coast, two days after an earthquake left building inspectors assessing damage to national monuments.
It struck five miles (8km) south of Mineral, Virginia - the epicentre of Tuesday's 5.8 magnitude quake, said the National Earthquake Information Center.
The latest tremor, at 01:07 local time (06:07 BST), was the strongest of four aftershocks, the US monitors said.
However, there were no immediate reports of damage.
Local media reported it was felt 82 miles (133km) to the north-west in the capital Washington, as well as in northern Virginia and Maryland.
Tuesday's earthquake, one of the most powerful to hit the east coast since 1897, had been felt as far away as Alabama and Boston.
In Washington, it opened a small crack near the top of the Washington Monument, prompting officials to indefinitely close the structure.
The National Cathedral lost part of its towering neo-Gothic spires and suffered cracks in its flying buttresses, while many schools and older buildings across the region suffered minor damage.
Two nuclear reactors were taken offline as a precaution near the epicentre of the original quake, but no damage was reported.