Hurricane Irene manhunt as Leonard Egland 'kills four'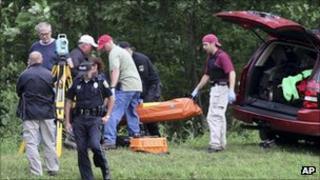 A US Army captain has been found dead after killing four people in two states and wounding two officers during the ensuing manhunt, authorities said.
Capt Leonard Egland, 37, killed his ex-wife, her boyfriend and the boyfriend's young son on Saturday, police said.
As Hurricane Irene swept through the east coast, he fled with his daughter into Pennsylvania, where he killed his ex-mother-in-law, police said.
He was found dead of a gunshot wound on Sunday. The girl was unharmed.
Egland had served in the US Army for nearly two decades and had deployed numerous times to war zones, authorities said. It was unclear what drove him to kill.
'Dangerous situation'
Authorities said that on Saturday, Capt Egland, based at Fort Lee, Virginia, shot dead his former wife Carrie Egland, her boyfriend and her boyfriend's young son at a house in Chesterfield, Virginia.
He drove north into Pennsylvania as the leading edge of Hurricane Irene began to pummel the area with high winds and heavy rain.
He arrived in Buckingham, Pennsylvania that night, where he broke into the house of his former mother-in-law Barbara Reuhl.
He then shot her to death, Bucks County District Attorney David Heckler told the Philadelphia Inquirer newspaper.
Next, he dropped his daughter off at a local hospital, where he threatened a hospital worker with a handgun.
Officers caught up with Egland on the rainy, flooding roads, and they exchanged gunfire, Egland shooting a rifle, police said.
One police officer was shot in the hand and another wounded by broken glass in the gun fight, authorities said.
"It was bad," Warwick Township, Pennsylvania Police Chief Mark Goldberg told the Associated Press. "Weather conditions were horrible and it was a very dangerous situation."
Egland escaped, but police found his truck in the early hours of Sunday morning, and his dead body in a bin that afternoon.
There were conflicting reports in the US media about how Egland died, with some indicating that he had shot himself, although police refused to confirm that to the Associated Press.