Yellowstone hunts killer grizzly bear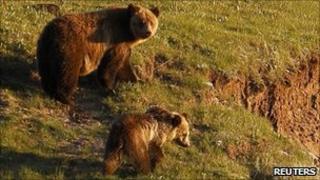 Wildlife agents are trying to capture a grizzly bear that killed a man in Yellowstone National Park, its second such fatality this summer.
The body of John Wallace, 59, from Michigan, was found on Friday along the Mary Mountain Trail.
Dan Wenk, a park superintendent, said there were no witnesses to the attack.
Fatal grizzly attacks are rare inside Yellowstone - the July attack on a Californian hiker was the first such incident in 25 years.
"We think we provide visitors with pretty good knowledge and techniques to keep them safe in the backcountry," said Mr Wenk.
"Unfortunately, in this case it didn't happen that way."
Park rangers are setting traps to capture and kill the animal that attacked the Michigan man.
The bear that killed him is believed to be a different animal to the one that killed the Californian hiker.
Park officials did not kill that animal because they determined it was the female protecting its cubs.
But the park did kill a four-year-old male grizzly earlier this month after that 258lb (117kg) animal charged - but did not injure - a man sitting on a hiking trail near Yellowstone Lake.
Yellowstone National Park covers parts of three states - Wyoming, Montana and Idaho - and is home to more than 600 bears, which can be as large as 600lb (272kg).