Your stories: Recovering from Irene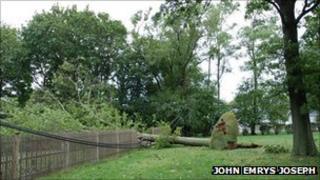 About two million people on the US east coast are still without power and 44 people have died as a result of Tropical Storm Irene.
Many residents have seen widespread flooding, some have lost their homes and those who were evacuated have returned to a clean-up operation to remove debris and make public areas safe.
BBC News website readers have been keeping us updated on how they are coping with damage and power cuts in the aftermath of Irene.
Donald Moss, Redding, Connecticut - Wednesday, 31 August
We have been without power since 0500 on Sunday. The best case scenario we have received is that it would be back this Saturday.
We've experienced power shortages before. We filled the bathtub with water, bought extra batteries and candles and essentially waited to see what would happen.
The house was not damaged but we lost three trees on the property. One was at least 100 years old.
Now it's like living in medieval times, it gets dark at 1930.
The electricity provider is not bad at communication but it's just platitudes and worst case scenarios.
You can text them and they will tell you the number of subscribers that have been reconnected in your area but that doesn't tell you if you have been reconnected. You have to keep calling them.
So we gave up and moved into a hotel New York and now we are in my son's apartment. He has a new baby. My wife is coping better than I am.
I had to clear our driveway and yard of debris. We also emptied the refrigerator and took the cat to board with the vet because we could not bring it to our son's apartment as he has the baby.
It is rare that we all stay together. Last night was the first night and we are taking it day by day but I don't think the power will be back on any time soon.
Jennifer Davis, Maryland - Monday, 29 August
The hurricane started around 4pm and went on until 8am the next morning, so we all camped out in the living room for the night.
My husband and I did not sleep, we were concerned about tornados and trees crashing through our roof.
During the storm, our basement flooded and the roof started leaking.
One of our neighbours came over during the hurricane to help us stop the basement flooding. He and my husband had to go out in the wind and rain to fix the gutters. At one point the wind nearly blew him away.
Our power went out pretty early on, but we have a generator and I was able to access Twitter from my cellphone to get updates on the situation from the state government and other people in the area.
Our power is back on now, although a lot of people in the surrounding counties are still without electricity.
On the morning after, neighbours drove around checking on each other - the homes in our neighbourhood are spread out - each home is on four or more acres.
We have been working on cleaning up the debris on our property for the last two days.
In town telephone poles were knocked down and trees are blocking the streets.
School has been cancelled indefinitely and I expect it will take a week at least for normal operations to resume.
Major Willis Howell, Salvation Army, North and South Carolina - Monday, 29 August
I'm the divisional commander for the Salvation Army in this area. We specialise in mobile kitchens and providing meals.
Our mobile canteens are self-contained and can serve up to 1500 meals a day for three days before they have to restock.
My wife and I must have fed 800 people in Kinston, North Carolina.
In one location there's a grocery store with no power so it can only keep produce for a certain amount of time. Once they can't keep it, they'll hand it over to us and we'll make meals from it.
The biggest common issue is the loss of electricity, but the state of North Carolina has been moving very quickly to restore power. Another problem is flooding and as you move West you start to see a lot more tree and structural damage.
People here also need ice to store food and keep it cold. Once the power comes back and people have ice, there might be more of a need for food and staples but also things like furniture.
We'll try to adapt as needs change, and as we move around the area we'll get a better idea of what those needs might be.
People are grateful even when our help is meagre.
Christine Scheller, Point Pleasant Beach, New Jersey - Monday, 29 August
There are still lots of people without power around here and it's hard to get around, as the Garden State Parkway - one of the main roads in the area - still has some closures.
My friend in East Windsor has been told they will be without power until 4 September, and another friend only just got power back for the first time since Saturday.
I was lucky - and surprised - that I didn't lose power, we just had a couple of flickers.
My parents' house is in an area that was under a mandatory evacuation order and their basement was still flooded this morning.
The boardwalk here at Point Pleasant Beach seems to have survived fine, but the one down at Spring Lake Beach, which is more popular with locals, didn't fare so well.
I had prepared for it a bit. I followed advice about putting bottled water in the freezer so that it keeps your food cold as well as giving you something to drink.
Locally the main concern about water is for the ocean as our beaches have a good reputation. They're testing the seawater now for contamination.
The concern is that sewage plants may have overflowed. That could have an impact on the tourist trade.
Our governor told people to get off the beach on Friday, but now the lieutenant governor is trying to make a joke about it and is telling people to get back on the beach.
It is a big concern as Labor Day weekend is traditionally a big tourist weekend for the summer season, and while we complain about them, we do rely on the tourist trade for the money it brings in.