Florida alligator-attack woman, 90, has leg amputated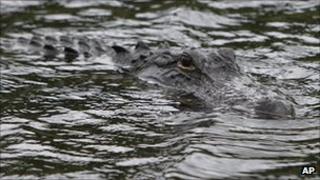 A 90-year-old Florida woman has had her leg amputated after she was attacked by an alligator near her home.
The 8ft (2.4m) reptile emerged from a canal and pounced on Margaret Webb in rural Copeland on Wednesday.
A neighbour driving by saw the attack and shot at the alligator, which crawled away, leaving Ms Webb's leg nearly severed.
She was airlifted to hospital in the city of Naples where she remains in a critical condition.
'Shot in the eye'
Doctors had to remove her lower left leg.
Ms Webb's neighbour, Dwain Daniels, told the Naples Daily News that he had used a rifle to shoot the alligator in the right eye.
Wildlife officials launched a search for the reptile in the rural community near the Everglades, but without success.
"When a person is bitten, our priority is to remove the suspect alligator," said Florida Fish and Wildlife Conservation Commission spokeswoman Gabriela Ferraro.
The hunt was called off on Thursday afternoon.
"There is also a swift current which has likely taken the live, wounded or dead gator miles downstream by now," said Ms Ferraro.
About five people are bitten each year in Florida by alligators, officials said.