Tsunami alert cancelled as 'small wave' reaches Alaska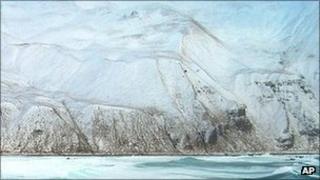 A 6.8 magnitude earthquake hit Alaska early on Friday, prompting a tsunami warning that was later cancelled, the US Geological Survey said.
Only a "small wave" was recorded reaching the shores of Atka in the US state after the tremor, whose preliminary measurement was 7.1.
State emergency officials say some residents had evacuated to higher ground until the all-clear was given.
There were no initial reports of injuries or damage.
The tremor hit Alaska's remote Aleutian Islands at 10:55 GMT on Friday, the US Geological Survey reported.
The quake's epicentre was 125 miles (200km) from Atka, at a depth of 22 miles.
Atka - some 1,000 miles south-west of Anchorage - has a population of less than 100, according to a census in 2000. Its main industry is fishing.
The state was the site of the world's biggest tsunami on record, when a massive rock-fall caused by a quake in 1958 led to a wave 1,720 ft (520m) high.