Power partly restored to California, Arizona and Mexico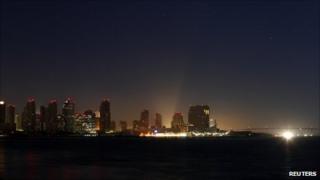 Power is steadily returning to two southwestern US states and Mexico, following a massive blackout which affected more than five million people.
Services to Arizona were restored early on Friday, while parts of California and the Mexican state of Baja California have also been reconnected.
The outage was triggered after a piece of equipment was switched off at a substation in Arizona, officials said.
Investigations are continuing into how the power cut spread so widely.
Sewage spill
By early Friday, some 930,000 users were back online, according to combined tallies provided by officials in Arizona, California and Mexico cited by the Associated Press.
"We have a ways to go but we're starting to see a bit of progress right now," Mike Niggli, chief operating officer of San Diego Gas and Electric, told AP.
Officials said that a power line between Arizona and California was knocked out of service after an employee carried out a procedure at a substation in Arizona.
"There appears to be two failures here - one is human failure and the other is a system failure. Both of those will be addressed," said Damon Gross, a spokesman for APS.
The blackout has caused transport chaos, with traffic lights being knocked out and trains and flights being cancelled.
In San Diego, where all of Gas and Electric's 1.4m customers lost power, outbound flights were cancelled, while many of the city's gas stations, shops and restaurants closed.
The outage also caused a sewage spill that has forced some of the city's nearby beaches to close.
Power has since been fully restored to the city after utility crews worked through the night to make repairs.
'Not deliberate'
In Los Angeles, trains were stopped because there was no power for lights and signalling, and a number of people had to be rescued from stuck elevators and theme park rides.
California's two nuclear reactors were forced to shut down.
Traffic lights were knocked out in Tijuana, while hospitals and government offices lost power. The border crossing at Otay Mesa was closed to all but pedestrian traffic, according to AP.
Daniel Froetscher, a vice-president at APS, told the Associated Press news agency the malfunction at the substation was "not a deliberate act".
"The employee was just switching out a piece of equipment that was problematic," Mr Froetscher said.