9/11 anniversary: Al-Qaeda video marks attack date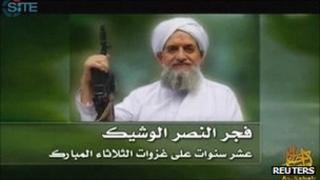 Al-Qaeda has issued a video to mark 10 years since the 9/11 attacks on the US, entitled The Dawn of Imminent Victory, a US monitoring group has said.
Posted on jihadist websites, it features a still image and audio message from leader Ayman al-Zawahiri, according to Site Intelligence.
It also includes footage of Osama Bin Laden, warning Americans against "falling as slaves" to corporations.
The Islamist network's former leader was killed by US special forces in May.
Site said the footage of Bin Laden appeared to be the same material found in the US raid on his Pakistan hideout in May, which Washington released but without its soundtrack.
It said the 62-minute video featured al-Zawahiri, now the US's most wanted man, applauding the Arab Spring revolutions.
'No specific threat'
"Zawahiri... declared that, contrary to what is reported in the media, al-Qaeda supports the revolutions and hopes it will establish true Islam and Sharia-based governance," AFP news agency quoted Site as saying.
"The popular revolutions, he stated, are a form of defeat for the United States, just as the 9/11 attacks and its alleged lack of success in Afghanistan and Iraq were also defeats."
Some analysts have argued that uprisings in the Arab world have weakened al-Qaeda.
While US officials had warned of a credible threat of an al-Qaeda bomb attack on one of its cities ahead of events to mark the 10th anniversary of 9/11, Site made no mention of any specific threat in its account of the video's contents.