Pair guilty of adopted son death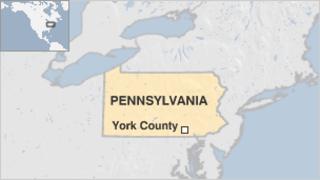 A couple from the US state of Pennsylvania have been found guilty of involuntary manslaughter of their seven-year-old adopted son from Russia.
Nanette Craver, 55, and her husband Michael, 47, were acquitted of murdering the boy, who they said had run head first into a stove.
Prosecutors believe Nathaniel Craver's death in August 2009 was caused by repeated blows to the head.
The case has attracted significant attention in Russia.
Two TV channels from the country covered the trial and the vice-consul from the Russian embassy attended.
'Self-harming'
Russian authorities say that at least 17 Russian children have died in domestic-violence situations with their adopted American families.
Nathaniel was adopted, along with his twin sister, from a Russian orphanage in 2003 after being born prematurely and spending a year in hospital.
The Cravers - who were arrested for the death in February 2010 - said they had tried to treat Nathaniel for what they called serious self-harming behaviour.
But Tim Barker, York County's chief deputy district attorney, said in his closing arguments: "Common sense tells you that he didn't do this to himself.
"Common sense tells you that they did this to him... and they prevented him from getting medical care."
Nathaniel was taken to hospital on the morning of 20 August 2009, several hours after he allegedly ran into the stove.
Michael Craver, an engineer, said the boy had been fine when he was put to bed the previous evening, but was unresponsive when they checked on him the next morning.
Nathaniel died five days later from a subdural haematoma, or bleeding to the brain. His sister is now being raised by a relative.
After the verdict, the Cravers' lawyer, Clasina Houtman, said: "They've lost their house. They've lost their jobs. They've lost their daughter, and their son."
The couple will be sentenced on 18 November. Involuntary manslaughter carries a prison term up to 16 months.