Reno air crash death toll rises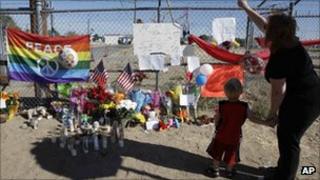 A 10th person has died from injuries caused when a vintage airplane nosedived into a crowd at a Nevada air race on Friday.
Out of 70 people wounded in the tragedy in Reno, four patients remain in a critical condition and at least six others are listed as serious.
Investigators have found a section of the aircraft's tailfin, which may have fallen off moments before the crash.
An onboard data box and camera equipment have also been recovered.
The fighter plane - a modified WWII-era P-51 Mustang - had apparently been equipped with an outward-facing video recorder.
Experienced pilot Jimmy Leeward, 74, was among those killed when his aircraft, dubbed the Galloping Ghost, hit a section of VIP box seats.
Reno hospital officials did not reveal on Monday the identity of the 10th casualty from the air crash to die.
National Transportation Safety Board officials have finished gathering evidence from the scene, where the impact left a big crater.
A photograph taken seconds before the crash appears to show a component of the plane's tail section falling off.
Investigators said the tailfin was one aspect of their efforts to find out how Leeward lost control of the aircraft.
They will publish an initial report this week, but expect the full inquiry to take months.