Screaming couple 'provoked' fatal grizzly attack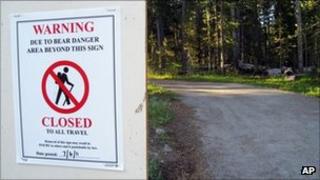 A fatal grizzly bear attack in July at Yellowstone National Park may have been provoked when the victim and his wife fled and screamed, officials say.
Hikers said they heard a woman's screams and a man making animal noises, possibly to scare away the animal.
The bear killed Brian Matayoshi, 57, before picking up his wife Marilyn by her backpack, but she was not harmed.
Park authorities decided to let the animal remain free as its reaction was deemed normal for a surprise encounter.
Park authorities had previously thought the couple reacted correctly when they encountered the mother bear with her cubs on the Wapiti Lake Trailhead, a popular Yellowstone route.
But after an investigation, bear researchers and wildlife agents say the pair's running and screaming helped spur the bear into attacking.
"What possibly began as an attempt by the bear to assess the Matayoshis' activities became a sustained pursuit of them as they fled running and yelling on the trail," the investigation team report said.
Park officials advise hikers to carry pressurised pepper spray with them for self-defence from bears, but the couple were not carrying any.
There have been two other fatal grizzly attacks in 2011. A hunter was killed by a wounded bear near the Idaho-Montana border last Friday, while a Michigan man died in Yellowstone in August.