Death toll from Reno air show rises to 11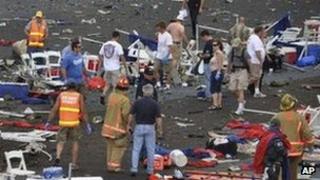 An 11th person has died from injuries sustained when a plane crashed into spectators at an air show in Nevada.
The identity of the patient, who is not thought to have been admitted to a local hospital, is unknown.
Eight of those killed at the Reno air show have been identified and scores of people are being treated for injuries.
The P-51 Mustang disintegrated on impact and left a big crater at the spot where it nosedived into a VIP seats section at the event.
A spokesman for the medical examiner's office said officials were still trying to identify body parts.
James Leeward, 74, was the 20th pilot to die at the air races since they began nearly half a century ago. But Friday's crash was the first in which spectators were killed.