Carl Lewis barred from New Jersey state senate ballot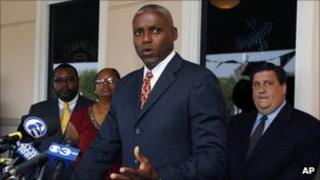 Olympic champion sprinter Carl Lewis' bid to run for office has again been disqualified at the starting blocks.
A federal appeals panel has ruled the 50 year old does not meet the four-year residency requirement to stand for election to New Jersey's state senate.
The decision reverses an earlier ruling by the same judges this month in favour of the nine times gold medallist.
In April, New Jersey's secretary of state, a Republican, barred Lewis from the ballot over the residency dispute.
Democrats said the Republican-run state government was opposing Lewis' candidacy to protect an incumbent against a well-known Democrat.
Lewis must decide whether to appeal by Friday, when ballots are due to be printed and sent to overseas voters.
After Thursday's ruling by the US Court of Appeals in Philidelphia, Lewis' lawyer, William Tambussi, said: "The extreme measures taken by the Republican Party to keep Carl Lewis off the ballot truly do a disservice to the voters."
But Chris Russell, a consultant to the Republicans who intervened in the case, said: "In spite of his celebrity status, [Lewis] has to play by the same rules that everyone else has to play by."
Lewis bought homes in New Jersey in 2005 and 2007 and worked as a volunteer track coach at a high school in the central part of the state.
But he also paid taxes in California and voted there in 2009. He registered to vote in New Jersey this year.
Lewis, who won four gold medals in the 1984 Los Angeles Olympics and nine gold medals overall in track and field, grew up New Jersey and settled in California.