US Congress funding feud threatens government shutdown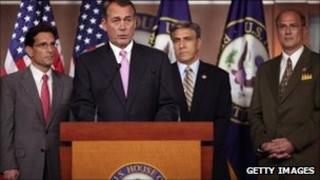 A US partial government shutdown is looming amid the latest spending dispute to cripple Congress - over two provisions in a federal funding bill.
The Democratic-led Senate has blocked legislation passed by the Republican-controlled House of Representatives.
The Democrats oppose Republican demands that funding for victims of hurricanes and wildfires be offset with cuts to clean energy programmes.
The stopgap spending bill is to fund the government beyond September's end.
Lawmakers from both sides have said disaster relief should not be a matter of controversy.
But with Congress' approval ratings in the basement, analysts say the dispute is just another sign of how partisan rancour is hampering US lawmakers' ability to pass even the most basic legislation.
'Americans tired of this'
Congress must extend funding for the entire government to avoid a partial shutdown on 30 September.
But aid for Americans hit by Hurricane Irene, Texas wildfires and tornadoes could also dry up by Tuesday if Congress does not replenish the dwindling relief fund.
The Senate voted on Friday by 59-36 to block the bill, which was passed overnight - on the second attempt - in the House by 219-203.
The revamped legislation approved in the House would provide $3.7bn (£2.4bn) of disaster relief.
But Democrats say that is not enough and object to a provision to help pay for it by trimming $1.5bn from a programme to develop fuel-efficient vehicles.
Democrats also said they would not consent to $100bn of Republican-backed cuts to an energy department loan programme.
It is the same programme that provided more than $500m to Solyndra, a now-bankrupt solar panel maker that has laid off 1,100 employees.
The Senate has passed its own bill, providing $6.9bn in disaster aid and no cuts to help pay for it.
Democratic Senate Majority Leader Harry Reid said: "Americans are tired of this partisanship. They deserve to know that when disasters strike, we will be there to help them."
Republican House Speaker John Boehner told a news conference: "Any delay that occurs because of inaction in the Senate will only imperil needed disaster relief for these thousands of families all across our country."
Republicans were unable to get their bill past their own party members in the House earlier this week.
They only succeeded on the second attempt by introducing extra cuts of $100m from the energy department loan programme.
The latest deadlock drew criticism from the White House.
"The fever hasn't broken - the behaviour that we saw this summer that really repelled Americans continues," White House press secretary Jay Carney told reporters.
Partisan warfare hit a high this summer as Congress bickered over a deal to raise the nation's debt ceiling, helping to prompt a historic federal credit downgrade.