Muslims convicted of disrupting Israeli envoy's speech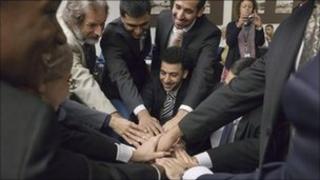 Ten Muslim students have been convicted of unlawfully disrupting a speech last year by Israel's ambassador to the US.
They shouted prepared statements at Michael Oren in February 2010, defying calls for order from officials at the University of California, Irvine.
The students' lawyers say they had a right to protest, but prosecutors said it curbed Mr Oren's right to be heard.
The 10 could face up to six months in jail, in a case that has sparked a heated debate about free speech.
The students stood up one by one, shouting slogans such as: "It's a shame this university has sponsored a mass murderer like yourself."
Their supporters say the case has unfairly criminalised student protest.
About 150 people attended Friday's hearing at Orange County Superior Court.
Some of them were visibly upset when the verdict was delivered, reports the Associated Press news agency.
Erwin Chemerinsky, the dean of the law school at the university, believed the conviction was heavy-handed.
Shakeel Syed, of the Islamic Shura Council of Southern California, said it was "yet another reaffirmation that Islamophobia is intensely and extensively alive and thriving in Orange County".