Drug bust at Boeing defence plant in Pennsylvania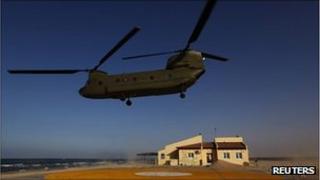 US federal agents have arrested 37 people in a drugs raid on a plant run by the aircraft manufacturer Boeing.
All but one of those detained are current and former employees at the facility near Philadelphia, which produces aircraft for the US military.
It is alleged they were dealing and buying prescription drugs. Boeing was alerted to the alleged drugs ring by members of staff.
Managers then called in the FBI, whose agents worked undercover at the plant.
The Boeing plant makes Chinook helicopters and Osprey planes used in Afghanistan.
'Critical role'
In all, 37 people were arrested for distributing and/or trying to buy prescription medication - mostly painkillers and anti-anxiety drugs.
US Attorney Zane David Memeger said 23 people were charged with selling the prescription painkiller Oxycontin among other drugs, while 14 people were charged with attempted possession of various drugs.
The suspects are men and women, most of them aged in their 40s and 50s.
"This investigation and prosecution focused not only on the sellers, but also on the users because of the critical role that these employees play in manufacturing military aircraft," Mr Memeger said.
The alleged dealing took place at the plant, although Boeing insists the quality of its production line was never compromised.
In a statement, the firm praised the authorities for a "rigorous and thorough investigation".
The plant, at Ridley Park, Pennsylvania, employs some 5,500 people, reports say.