Florida to hold presidential primary on 31 January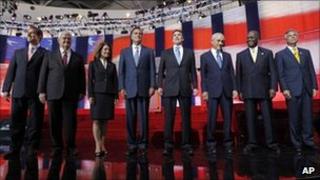 The pivotal US election swing state of Florida has scheduled its contest to pick the party's presidential nominee early.
The decision to hold the primary on 31 January is expected to shunt forward the whole election calendar as other states scramble to stay ahead.
Republican Party rules say only four states can hold primaries or caucuses before 6 March.
They are now expected to move their dates from February to early January.
The four states authorised by the Republican National Committee (RNC) to go first in the nominating process are Iowa, New Hampshire, Nevada and South Carolina.
'Petulant behaviour'
The move to reschedule the primary has drawn sharp criticism from the other early states.
Iowa Republican Party chairman Matt Strawn said the move was "disappointing, but not surprising," while South Carolina Republican Chairman Chad Connelly said "rogue states" were attempting to "dictate" the nominating calendar.
A spokesman from New Hampshire Secretary of State Bill Gardner's office said they "cannot rule out the possibility of conducting the primary before the end of the year."
Florida has rescheduled its primary in a bid to boost its sway in the process that will eventually pick a Republican nominee to face Democratic President Barack Obama in the November 2012 election.
In previous election years, some candidates who performed poorly in early primaries had dropped out of the race before Florida, the largest swing state in the US, had a chance to vote.
But correspondents say the early start to the nominating season could put pressure on candidates who have less time to build their support base among both voters and donors.
The decision, made by the state's presidential preference primary date selection committee, is in violation of RNC rules.
The Republican National Committee is threatening to punish the state by barring half its delegates, who help anoint the nominee, from attending the party's convention in Tampa, Florida, in August next year.
Mr Strawn supported a move to punish Florida's "petulant behaviour".
Currently, the Iowa caucuses are set for 6 February; New Hampshire's primary on 14 February; the Nevada caucuses for 18 February; and the South Carolina primary on 28 February.