Republicans stuck with current field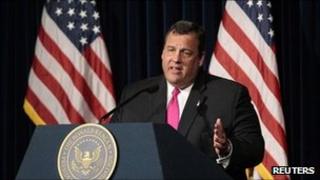 President Obama has declared himself the underdog (albeit one with a vision) and indeed a majority (55%) of Americans think he'll lose the next election. But if he does lose, it won't be to New Jersey Governor Chris Christie.
Mr Christie has done himself no harm at all by declaring, with some passion, that he's not going to stand as president, that "now is not my time".
He told of a letter to his children, urging them to tell their dad that they wouldn't mind him missing ball games and concerts because "the country needs me".
He said his wife woke him at six in the morning and told him if he wanted to run he should go for it. His son said it would be a great adventure.
But he decided New Jersey needs him more.
He said he felt in his gut that it was "not the time to leave unfinished business".
Pride, passion and concern for one's home state always goes down well in America, and unlike Sarah Palin he can't be accused of walking away from a big job.
It is impossible to peer ahead beyond this coming election, but if President Obama does win re-election in 2012, Mr Christie could be positioned well for 2016.
But has he harmed the Republican cause?
As I wrote yesterday, the party remains unhappy with the choices before them.
Although time has ticked away, leaving virtually no chance of another candidate coming in, they will still cast around for a saviour.
But largely, they are stuck with what they've got.
I guess Herman Cain or Michele Bachmann could surprise us all.
But it looks like they will have to accept it boils down to Rick Perry or Mitt Romney.
Mr Romney's team are said to be quite delighted that all the attention is not on their man.
If it is Mitt in the end, it raises a big question.
Can a man who fails to inspire his party, inspire the country and beat an underdog?