Convicted Cuban spy Rene Gonzalez freed from US prison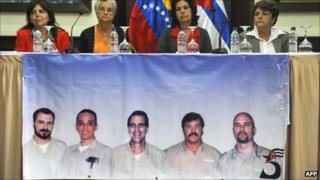 Convicted Cuban agent Rene Gonzalez has been freed as scheduled from a Florida jail, after serving 13 years of a 15-year sentence.
Gonzalez is part of a group known as the Cuban Five, who were given long terms in 2001 in the US after being convicted of spying.
Gonzalez must now spend three years on supervised probation in the US.
Havana has demanded that he be allowed to return to the island, where the five men are considered national heroes.
Rene Gonzalez, who received the shortest sentence, is the first of the Cuban Five to be released from custody.
He had asked to be allowed to return to his family in Cuba but last month a US judge turned down the request, upholding the order that he remain in the country for a further three years.
Prosecutors opposed his return to Cuba, saying he might resume spying by taking advantage of his dual US-Cuban citizenship.
A return to Cuba would "effectively put him beyond any supervision by the court," Assistant US Attorney Caroline said in court papers, describing him as " a particular, long-term threat to this country".
Gonzalez's wife told the Associated Press she feared his life would be in danger from the Cuban exile community in the US.
His lawyer, Philip Horowitz, said they would appeal again against the requirement to stay in the US.
Spies
Gonzalez was arrested in 1998 along with Gerardo Hernandez, Ramon Labanino, Antonio Guerrero and Fernando Gonzalez.
The men were found guilty in 2001 of trying to infiltrate US military installations in South Florida.
Hernandez was also convicted of conspiracy to commit murder over the shooting-down in 1996 of two planes flown by a Cuban exile group, Brothers to the Rescue.
The five, who received terms ranging from 15 years to life, have over the years made several appeals against their convictions and sentences.
The Cuban government has always said the men were not in Miami to spy on the US but to prevent anti-Castro exile groups from launching what it called "terrorist attacks" on Cuba.
The case of the Cuban Five has cast a long shadow over US-Cuba relations.
The Cuban government regularly stages demonstrations to call for the men's release.
At the same time, the US has repeatedly demanded the release of Alan Gross, who is serving a 15-year jail sentence for taking illegal satellite equipment into Cuba.