Alabama immigration law challenged by US government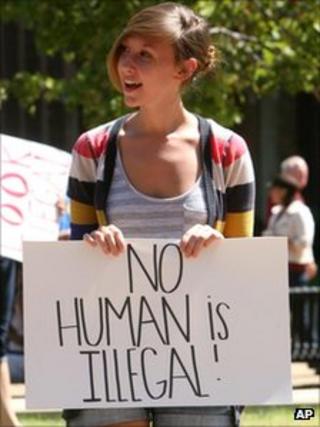 The US government has asked an appeals court to block a tough new immigration law in Alabama, saying it could cause discrimination against legal citizens.
The justice department filed a challenge which also argued that the law would merely displace illegal immigrants into neighbouring states.
A federal judge last week upheld controversial provisions of the state law, considered the toughest in the US.
There are an estimated 11 million illegal immigrants in the US.
'Impermissible consequences'
Alabama's law requires schools to check pupils' legal residency and bars illegal immigrants from getting drivers' or business licences.
It also allows police to detain people suspected of being in the country illegally if they cannot show proper documentation.
Those provisions have been upheld by a federal judge and will stay in place while the appeals court considers the justice department's request.
The legal motion said Alabama's new law was "highly likely to expose persons lawfully in the United States, including school children, to new difficulties in routine dealings".
Alabama Governor Robert Bentley said in a statement: "I remain committed to seeing that this law is fully implemented. We will continue to defend this law against any and all challenges."
If wholly enforced, the measures would make it a crime to knowingly give a lift or rent a room to an undocumented worker.
Education officials in Alabama have said that immigrant families have begun keeping their children home from school or withdrawing them entirely from their classes.
The justice department said in its emergency stay request filed in the 11th US Circuit Court of Appeals in Atlanta, Georgia, that "news accounts confirm that the law is having its intended but impermissible consequences of driving aliens from the state".
Similar laws passed this year and last in Utah, Indiana, Georgia and Arizona have been blocked in whole or in part after challenges by the Obama administration.
It argues that only the federal government has the constitutional authority to set immigration policy.