Iowa plans to move its caucus to 3 January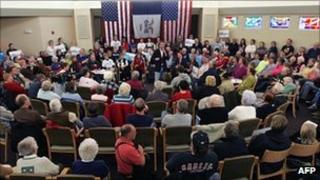 Iowa's presidential nominating contest is expected to move to 3 January 2012, ahead of its traditional date a month later, according to party leaders.
It comes after Florida, South Carolina and then Nevada all moved forward their own primaries and caucuses in a bid to boost their influence over the process.
The reschedules threatened Iowa's status as the first contest of the presidential election.
An official announcement is expected from Iowa Republicans on Monday.
Iowa officials said they did not want to move the contests into the holiday season.
'Very jealous' states
Iowa Republican Chairman Matt Strawn told Iowa Public Television he planned to spend the weekend co-ordinating plans with his counterparts in New Hampshire.
Several days after Iowa's caucus, New Hampshire traditionally holds its primary.
"Every four years Iowa and New Hampshire are attacked by other states that are very jealous of the opportunity we have to start the presidential nominating process," Mr Strawn said.
Iowa Democrats said they would hold their caucus on the same day as Republicans, even though they would not have a nominating contest.
National Republicans initially decided Nevada would host its nominating contest on 18 February, which would have made it third in the nation.
Last week the pivotal swing state of Florida broke Republican Party rules by announcing its primary would take place on 31 January.
That decision led South Carolina to set its vote for 21 January, prompting grumbling in the party about "rogue states".
The Republican party allows only Iowa, New Hampshire, Nevada and South Carolina to stage primaries or caucuses before 6 March.
The party has threatened to punish those who flout the rules by barring some of their delegates, who help anoint the eventual nominee, from the party convention next August.