Milwaukee woman held after US foetal abduction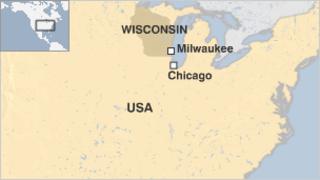 Police are questioning a woman in the US state of Wisconsin over the death of a heavily pregnant 23-year-old, whose unborn child was removed from her womb.
The 33-year-old suspect called emergency services in Milwaukee on Thursday to say she had given birth at home and the baby was not breathing.
Police searched the suspect's home a day later and found the body of the 23-year-old woman in the basement.
The full-term baby did not survive the incident.
Police said the child had been removed from the mother's uterus "by force", but did not provide further details.
The suspect has not yet been charged.
The family of the victim, Maritza Ramirez-Cruz, have said she had been due to give birth to her fourth child on 16 October.
She had been expecting a boy, whom she and her husband planned to name Omar.
Police say it is not clear how Ms Ramirez-Cruz came to the unnamed suspect's home as she is not thought to have known her.
Neighbours of the suspect reportedly said she had told them she was expecting a baby.
"She was rubbing her belly all the time, she was telling everyone she was getting bigger," one neighbour told a local radio station.
The dead woman's husband, Christian Mercado, told the station his wife had mild contractions on Thursday morning and left the house to run an errand.
Mr Mercado went to work and called his wife later that morning but got no answer.