'Underwear bomber' Abdulmutallab on trial in Detroit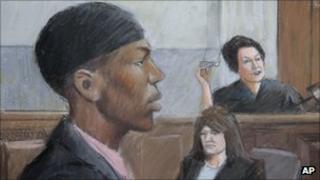 A Nigerian accused of trying to bomb a Detroit-bound flight on Christmas Day 2009 was on a mission for al-Qaeda and seeking martyrdom, a court has heard.
Umar Farouk Abdulmutallab, 24, caught fire when a bomb sewn into his underwear failed to detonate fully, prosecutors said as his trial opened.
Mr Abdulmutallab faces a series of charges, including attempted use of a weapon of mass destruction.
If convicted, he could face a lifelong prison sentence.
During the opening statements, a federal prosecutor told the court Mr Abdulmutallab was on a terrorist mission to kill almost 300 people aboard.
The bomb did not work, though, and the defendant was badly burned instead.
As the trial began the court heard a dramatic retelling of events, correspondents say, with clips of audio recordings from the flight played out to the jury.
Passengers on board the Northwest flight travelling from Amsterdam to Detroit had to put the fire out after the failed bombing, the court heard.
Earlier, Mr Abdulmutallab's standby lawyer Anthony Chambers requested a ban on the word "bomb" until the final arguments.
Federal Judge Nancy Edmunds denied the request, saying "it makes no sense whatsoever".
'Driving the bus'
Mr Abdulmutallab is representing himself in this trial. He has been appointed a standby lawyer, Anthony Chambers, but Mr Chambers said his client was "driving the bus" in the trial.
He also conceded self-representation made the case "more difficult strategically".
But David Steingold, a Detroit defence lawyer said a standby counsel would ensure "no one down the road can claim [Mr Abdulmutallab] was railroaded."
Lloyd Meyer, a former terrorism prosecutor at the US justice department, said the move to appoint standby counsel was prudent.
Had Mr Abdulmutallab delivered the opening statements himself "he would have stood up in front of a jury and said, 'I wanted to murder my fellow passengers and here's why'."
The 24-year-old fired four lawyers appointed to him by the Detroit Federal Defender last year.
The former student has had a number of outbursts in the courtroom.
He shouted "Anwar is alive" during jury selection, an apparent reference to Anwar al-Awlaki, a US-born al-Qaeda recruiter killed in a drone strike in September.
During a pre-trial hearing, Mr Abdulmutallab made similar statements about Osama Bin Laden after his publicised death.
Mr Abdulmutallab was denied a request to ban statements he made while being treated for burns at a hospital, as well as other material, from appearing at trial.
Mr Abdulmutallab said he was not read his rights - including his right to remain silent - before the FBI questioned him.
Mr Chambers said he was unhappy that the jury, which has only two African-Americans out of a total of 12 jurors, "does not represent the community".
Mr Abdulmutallab's father, Alhaji Umaru Mutallab, an influential banker who is well connected in Nigerian politics, said he had approached the US embassy officials and Nigerian authorities to warn them about his son in 2009.