Republican hopefuls in TV debate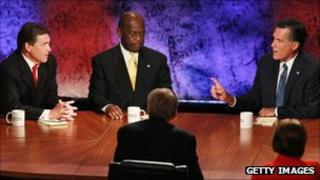 Republican presidential candidates discussed the economy during a televised debate in the state of New Hampshire.
Former Massachusetts Governor Mitt Romney defended Wall Street bailouts and attacked Mr Obama's healthcare law.
Many candidates focused their attacks on Mr Romney, who is a frontrunner in the race.
He received a high-profile endorsement from New Jersey Governor Chris Christie hours before the debate.
Mr Christie was flanked by Mr Romney in New Hampshire as he praised his experience as a businessman and elected leader.
Cain attacked
Correspondents say the donors who had been poised to help fund a Christie White House campaign will now funnel their money to Mr Romney.
Tuesday's debate was seen as a big test for Texas Governor Rick Perry, after criticism of his performance in previous debates and on the campaign trail.
Mr Perry argued the government should open up further domestic energy production.
He said the US must "pull back those regulations that are strangling American entrepreneurship".
Former pizza company executive Herman Cain repeatedly called for replacing the US tax code with a 9% national sales tax and a 9% levy on personal and corporate income.
Candidates at the roundtable criticised Mr Cain's signature "9-9-9" plan.
"I thought it was the price of a pizza when I first heard it," joked Jon Huntsman, the former governor of Utah.
Former Speaker of the House Newt Gingrich spent his evening attacking Obama administration officials and members of Congress, who he said had botched the response to the 2008 financial crisis.
He blamed Federal Reserve Chairman Ben Bernanke for the recession and called for him to be fired.
While Mr Romney joined his rivals in attacking Mr Obama's healthcare law, he sounded a different note on the response to the financial crisis.
Mr Romney said the 2008 bailout of Wall Street banks had been essential to preserving the nation's currency and financial system from collapse.
"Action had to be taken," said Mr Romney. "Was it perfect? No."
The nation was on a precipice, Mr Romney said, "and we could have had a complete meltdown".
Perry's poll woe
The former Massachusetts governor was widely judged to have beaten Mr Perry in the last Republican television debate, in Orlando, Florida.
Mr Perry became the frontrunner in the Republican field after declaring his candidacy in August, but his lead has proved fragile.
A poll released on Monday gave Mr Romney 38% of support among Republicans in New Hampshire, one of the first states to vote for the party's White House nominee.
Businessman Herman Cain was second on 20%, while Mr Perry trailed in sixth place with only 4%, according to the survey by Harvard and St Anselm's College.
Mr Perry has been attacked by conservative Republicans over his 2007 order mandating vaccinations for Texas schoolgirls against a sexually transmitted infection that causes cervical cancer.
He has also come under fire for backing in-state tuition for the children of immigrants who entered Texas illegally.