Syria-US 'spy' Mohamad Soueid faces court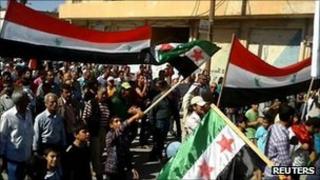 A Syrian-born American has been charged with spying on US activists who oppose the Damascus government.
US court papers say Mohamad Soueid, 47, sent 20 recordings of protests in the US to Syria's spy agency between April and June 2011.
The indictment also alleges Mr Soueid, from Virginia, went to Syria in June to meet President Bashar al-Assad.
The Syrian embassy in Washington denied the charges, saying Mr Soueid has no connection with the Syrian government.
Mr Soueid, who appeared in court in Virginia, faces charges of gathering intelligence for a foreign government.
He has also been charged with lying to the FBI when they interviewed him in August about his activities with Mukhbarat, the Syrian intelligence agency.
Mr Soueid was arrested on Tuesday, He was born in Syria but is a naturalised US citizen.
It is also alleged that he tried to recruit other agents to monitor activities of American anti-Damascus activists.
'Cherished right'
Assistant Attorney General for National Security Lisa Monaco said in a statement that Mr Soueid's actions were intended to "silence, intimidate and potentially harm" the protesters.
Prosecutor Neil MacBride said: "The ability to assemble and protest is a cherished right in the United States, and it's troubling that a US citizen from Leesburg is accused of working with the Syrian government to identify and intimidate those who exercise that right."
Earlier this year, a group of Syrian-Americans sued Mr Soueid - who has also used the names Alex Soueid and Anas Alswaid - and members of the Syrian government.
They say they were victimised by Damascus.
In a statement, Syria's embassy in Washington denied any connection between Mr Soueid and the Syrian government.
"Mr Soueid is not an agent of any Syrian institution; he never worked under directions or control of any Syrian official," the statement said.
President Assad has cracked down on demonstrations against his regime that began in Syria in March 2011.