Barack Obama 2012 campaign raises $70m in third quarter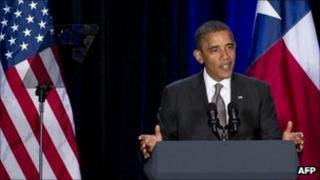 US President Barack Obama has raised $70m (£45m) towards his re-election bid in the third quarter of 2011, campaign officials say.
The amount is less than his fundraising total for the previous quarter but higher than his $55m goal.
Some Obama fundraisers were cancelled during the summer debt ceiling crisis.
He leads his Republican rivals in fundraising by tens of millions of dollars, and will not have to expend money on a primary opponent.
During the same quarter, Rick Perry, the governor of Texas, topped the Republican field in fundraising, with $17m.
The fundraising totals do not include money being raised by independent organisations, known as political action committees (PACs), for their preferred nominee.
Mr Perry and former Massachusetts Governor Mitt Romney have at least one so-called "super PAC" supporting their candidacies.
Another is backing Obama's re-election bid.
'Building infrastructure'
Nearly $43m was raised directly by the Obama campaign, while $27m was raised by the Democratic National Committee, which will help his re-election effort next year.
In an email to supporters, Obama campaign manager Jim Messina said more than 600,000 people donated to the campaign in the most recent quarter. Some 98% of the donors gave $250 or less, with an average donation of $56.
Democrats said those figures were indicative of grassroots support.
Mr Obama has faced months of declining poll numbers as the US economy remains troubled. He has recently called himself the "underdog" in the presidential race.
Mr Messina said the campaign was focusing on "building infrastructure", including opening three new field offices every week during the past three months.
A Republican National Committee spokeswoman told the Associated Press news agency that Mr Obama would need "every penny he can raise because voters don't believe he has the ability to turn the economy around or create much-needed jobs."
Mr Romney leads the Republican field in fundraising, pulling in more than $18m in his first three months of campaigning. He is not expected to match that level or Mr Perry's total during the current quarter, but should lead the pack in terms of cash on hand.