Seal Beach shooting: Suspect 'was in custody battle'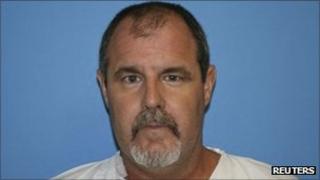 The only suspect in a California shooting that killed eight people was involved in a custody dispute with his ex-wife over their son, reports say.
Scott Evans Dekraai, 42, was arrested after the attack a short distance from the salon where his ex-wife worked.
Mr Dekraai and Michelle Fournier had separated in 2007.
Authorities said they would not release the names of the victims until Friday, but many in the small community are already mourning those believed dead.
One gunshot victim is alive but remains in a critical condition, police said.
Unprecedented
Seal Beach is reeling from a crime unprecedented in the town, which is home to 25,000 people.
Jim Watson, owner of the salon's building told Reuters news agency he was a friend and a customer of the owner, Randy Fannin, who he said was killed.
"I just made a connection with Randy, I liked the way he cut my hair and and I liked him as a person," Mr Watson said.
A memorial for those killed at appeared outside of the salon on Thursday, with flowers, candles and photos of the dead.
Mr Dekraai's ex-wife Michelle Fournier, her friend Christy Wilson and several stylists at the salon are believed to be among those killed in the attack, the Los Angeles Times reports.
Seal Beach has had only four murders in the past decade. Police from nearby towns have been assisting with the investigation.
"A crime of this magnitude is not something Seal Beach is familiar with," Sgt Steve Bowles of Seal Beach police told reporters.
Threatened to kill
Mr Dekraai and Ms Fournier reportedly separated in 2007, several months after a boating accident where he was permanently injured and saw a colleague die.
He was diagnosed in 2008 with post traumatic stress disorder, according to court documents.
Ms Fournier claimed in court papers filed during their divorce proceedings earlier this year that Mr Dekraai was mentally unstable and had threatened at least once to kill himself or someone else.
Court documents show that Mr Dekraai complained about repeated phone calls from his ex-wife, report say.
Contact between them was limited to one call a week.
Mr Dekraai was stopped by officers on Wednesday after the attack and surrendered without incident.
He had multiple weapons with him, Sgt Steve Bowles of Seal Beach police department said.
"He appeared co-operative, and did not resist our officers when he was detained," Sgt Bowles said, adding: "We do feel confident at this point that we do have the single and only suspect in custody."
Sgt Bowles said the salon was busy at the time, with every stylist's station in use. Bodies were scattered around the premises.