Gloves off at Republican TV debate in Las Vegas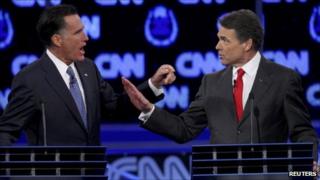 Republican presidential hopefuls have clashed sharply in their latest televised debate in the economically depressed state of Nevada.
Former pizza magnate Herman Cain - who has jumped in the polls despite having never won an election - came under heavy fire for his 9-9-9 tax plan.
The fiercest exchange was between Mitt Romney and Rick Perry on immigration.
All are vying for the Republican nomination to challenge Democratic President Barack Obama in 2012.
Tuesday night's CNN debate took place in Las Vegas, in a repossession-wracked state with an unemployment rate of 13.4%, the highest in the US.
'Height of hypocrisy'
Mr Cain's signature proposal for a 9% personal income tax, a 9% corporate tax and a 9% national sales tax immediately came under attack from all sides.
Ex-Massachusetts Governor Romney, who has found himself in a dead-heat with Mr Cain in recent opinion polls, told him "middle-income people see higher taxes under your plan".
Long-shot candidate Rick Santorum, a former Pennsylvania senator, cited one analysis suggesting that 84% of Americans would pay more taxes under Mr Cain's plan.
Mr Cain said the proposal was only being criticised because lobbyists, accountants and others benefited from the current tax code.
The contenders next took aim at the healthcare scheme Mr Romney implemented as governor of Massachusetts.
President Obama has said Mr Romney's plan was a model for his 2010 healthcare overhaul - which conservatives are determined to repeal.
Texas Governor Perry and Mr Santorum both took aim at Mr Romney on healthcare, with Mr Santorum saying: "You just don't have credibility, Mitt."
Newt Gingrich, a former Speaker of the House of Representatives, also piled into Mr Romney, saying: "There's a lot of big government behind Romneycare."
Mr Santorum and Mr Romney shouted over each other, with the latter repeating that he wanted to repeal the Obama plan.
But the most heated clash was between Mr Perry and Mr Romney over immigration.
Mr Perry said: "Mitt, you lose all of your standing, from my perspective, because you hired illegals in your home and you knew about it for a year."
He charged Mr Romney with "the height of hypocrisy".
The Texas governor was referring to a Boston Globe story from 2007 reporting that a gardening firm hired by Mr Romney had employed illegal immigrants.
'Cut aid to Israel'
Mr Romney - who has struggled to energise the party's conservative base despite polls showing he is the Republican with the best chance of beating President Obama - strongly denied the allegation.
A ruffled Mr Romney appealed to debate moderator Anderson Cooper to stop Mr Perry interrupting, telling his rival: "You have a problem with letting other people speak."
"It's been a tough couple of debates for Rick, and I understand that," Mr Romney said of Mr Perry, who has suffered from patchy performances at the podium and on the campaign trail.
"Texas has had a 60% increase in illegal immigrants. If there's someone who has a record as governor with regards to illegal immigration that doesn't stand up to muster, it's you, not me," said Mr Romney.
Meanwhile, Representative Michele Bachmann launched a personal attack on President Obama over immigration.
She said it was the president who had the immigration problem because of "his uncle and his aunt, who have been allowed to stay in this country despite the fact that they're illegal".
Mr Romney then put Mr Perry on the defensive over an evangelical pastor with ties to the Texas governor who criticised Mormonism.
"The idea that we should choose people, based on their religion, for public office is what I find to be most troubling," said Mr Romney, a Mormon. Mr Perry replied that he did not agree with what the preacher had said.
The Texas governor also suggested the US should consider "defunding" the United Nations, citing its recent acceptance of a Palestinian application for membership.
Texas Representative Ron Paul meanwhile urged slashing defence spending, suggesting not just that the US should have fewer overseas military bases, but that it ought to cut all foreign aid, including to Israel.
Ex-Utah Governor Jon Huntsman boycotted the debate after Nevada defied national Republicans by rescheduling its contest to pick the party's nominee, creating a logjam in next year's campaign calendar.