US 'drug-smuggler' customs officer held after car chase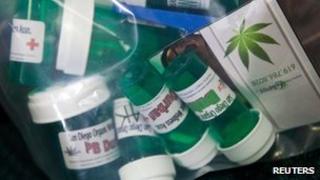 A US immigration officer has been arrested after a high-speed car chase in which he allegedly tossed bundles of marijuana out of his government car.
Arizona police say the 45-minute chase ended after the deportation officer's vehicle rolled over.
Police say they tried to pull over the suspect, Jason Alistair Lowery, 34, after he picked up 500lb (230kg) of marijuana in the desert on Tuesday.
The accused had been under surveillance for more than a month.
A smuggler who had been arrested gave a tip about the officer in the hope of lenient treatment, Department of Public Safety Officer Carrick Cook told AP news agency.
He said Mr Lowery, a deportation officer for US Immigration and Customs Enforcement, threw 10 of 14 bundles of marijuana out of the vehicle's window while trying to escape.
Police cars gave chase at speeds of up to 110mph (177km/h).
Between 2003 and 2010, 129 US customs officers and border agents were arrested on corruption charges, according to the Department of Homeland Security.