Perry's time to 'turn Momma's picture to the wall'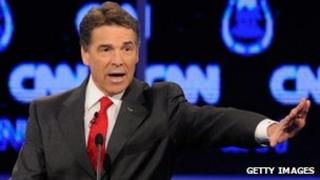 As Michele Bachmann wisely remarked, this time what happens in Vegas doesn't stay in Vegas.
How the media - from cable TV to tweeters and bloggers - portrays the most recent Republican debate really matters. It matters the most for Rick Perry.
A relatively small number of people watch the debates live, between 3 and 6m on cable news networks.
Many will form a judgment based on subsequent coverage. It's the next few opinion polls that will matter in pointing to who can challenge Romney from the right.
Nearly everyone agrees Romney came out on top.
I thought Rick Perry did himself no favours with his attack on Mitt Romney. The audience booed him.
But many commentators don't share my instinctive reaction. Perry came out punching and many feel he's put himself back in the race.
The Washington Post argues "overall it was by far his best showing. Perry actually seemed like he wanted to be there; he was energetic and feisty".
Newsmax says "Rick Perry snapped out of his sleepy debate style".
The influential Tea Party-flavoured blog, Redstate, praises Perry's "from-the-gut" style and concludes: "I suspect Perry saved himself tonight."
The conservative National Review is lukewarm on Perry, but feels "he showed more energy than in the last debate, and so lived to fight another day".
Turning negative
One canny Republican strategist told me cable TV would pump Perry up because they want conflict and that's what he gave them.
He added that what Perry was doing was the right strategy.
"It's time to turn Momma's picture to the wall, and get down in the gutter where politics belongs: negative campaigning works," the Republican strategist said.
He said Perry should start hitting Romney with negative ads until his ratings start to drop.
Certainly, if Perry's ratings rise, his team will conclude that it is indeed time to flip Ma's portrait and start blazing away.
The trouble with this strategy is while Republicans bicker and bitch, it gives Obama, facing no Democratic challenge, the chance to talk about jobs, not his opponents' Mexican gardeners, and look generally presidential and above the fray.