Philadelphia police find children linked to 'dungeon'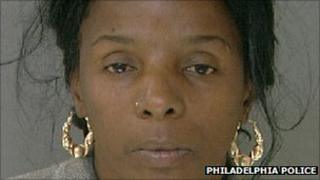 Police have taken into protective custody eight children and four young adults believed to be linked to three charged over a Philadelphia 'dungeon'.
A 19-year-old, the niece of suspect Linda Ann Weston, was found locked in a cupboard suffering from open wounds.
A tip from Florida officials led police to the children around Philadelphia.
Weston and three other suspects are scheduled to appear in court next week to face charges of imprisoning mentally-disabled people.
She has previously served a prison sentence for starving a man to death.
The niece, Beatrice Weston, was taken by her aunt at the age of eight, according to Philadelphia police spokesman Lt Ray Evers. She is now recovering in a local hospital.
Police told ABC News that two of the the children, aged two and five, belonged to a mentally disabled couple who were held captive by Weston for years.
Those children were severely malnourished, police said. The two-year-old looked like a six-month-old when found, Lt Evers said.
He suggested authorities would seek the harshest possible prosecutions against the suspects.
"We're going to prepare to prosecute this here or, without hyperbole, wherever the prisons are going to be the worst. Federal prisons might be too nice," Lt Evers said.
Linda Ann Weston, Gregory Thomas, 47, and Eddie Wright, 49 were arrested over the weekend after police found four mentally-disabled adults locked in a small basement room with only orange juice.
Police allege the suspects stole disability benefits from their victims.
An anonymous source told the Associated Press that authorities were considering charging the suspects under a hate-crime law - which could lead to potentially longer jail terms in the event of a conviction.
'Web of horror'
A fourth suspect, Jane McIntosh, 32, Linda Ann Weston's daughter, was arrested on Wednesday. She faces multiple charges including kidnapping and conspiracy.
Her teenage son and daughter are among the children taken into protective custody.
Police found social security cards, power of attorney forms and other documents bearing the names of about 50 people in Weston's possession on Tuesday.
They are unclear how broad the alleged fraud is, but the FBI has now joined the investigation.
"The things that I have heard, the things that have been described, I'm not sure that horrific covers it," Philadelphia Mayor Michael Nutter said on Wednesday.
"We are still trying to figure out the many components of what I would describe as the incredibly tangled web of horror."
Authorities in Virginia confirmed that a Philadelphia woman had died in Weston's rental home in Norfolk in 2008.
According to the death certificate, Maxine Lee, 39, died of meningitis. A wasting disease also contributed to her death.
Weston and two others left the house after calling to report the death.
"They had left everything," landlord Mohammad Zarandi told the AP. "The TV was still on."
Almost 30 years ago, Weston was convicted of starving to death 25-year-old Bernardo Ramos, after Ramos had refused to support her pregnant sister.
She was sentenced in 1985 and spent eight years in prison, according to reports.
Unpaid rent
All four Philadelphia victims, aged 29 to 41, were treated at a local hospital and placed with social service agencies.
One victim said he met Weston through an online dating service.
"That was real dirty of [her]. That was wrong," one of the four victims, Derwin McLemire, told a local TV station on Monday.
He and two others said they had been on the move for about a year with their alleged captors, travelling from Texas to Florida to Philadelphia.
Police believe they were moving to avoid many landlords seeking unpaid rent in court.