Michele Bachmann denies New Hampshire staff 'walkout'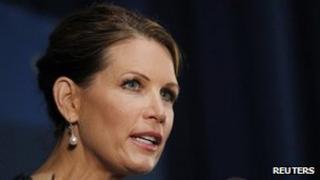 Republican presidential hopeful Michele Bachmann has denied reports that her New Hampshire campaign staff have quit.
"I don't know where that came from," she told Radio Iowa.
US media reported a walkout by her five team members in the early voting state, which the Minnesota Congresswoman has been accused of ignoring.
Analysts say Mrs Bachmann is focused on winning the presidential nomination contest in Iowa, where her conservative message may have more appeal.
Mrs Bachmann told Radio Iowa: "We have called staff in New Hampshire to find out where that came from and the staff have said that isn't true, so I don't know if this is just a bad story that's being fed by a different candidate or campaign."
Earlier, Bachmann campaign spokeswoman Alice Stewart said she had not been able to contact the New Hampshire staff to confirm they were still on the campaign.
And former Republican state legislator Fran Wendelboe told Reuters news agency that Mrs Bachmann's perceived lack of focus on the state "underscores the impression that New Hampshire isn't a priority for her. She's totally written us off".
Mrs Bachmann enjoyed an early lead in opinion polls after winning the influential Iowa straw poll in August.
But she lost ground after Texas Governor Rick Perry entered the race and has since dropped to fourth place in many polls.
Her campaign manager, Ed Rollins, quit in September.
Mrs Bachmann has also struggled to win donors for her campaign.
She raised around $4m (£2.5m) in the third quarter, less than Mr Perry, who raised $17m, and former Massachusetts governor Mitt Romney, who pulled in about $14m.
Iowa is currently due to hold the first caucus in the presidential election cycle in January.