Harper government has long-gun registry in its sights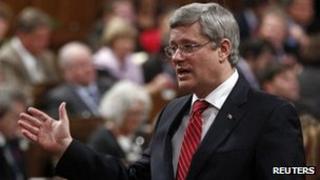 Canada's Conservative government has introduced legislation to abolish the long-gun registry.
The registry requires owners of shotguns and rifles to register the weapons, but when Stephen Harper's Conservative government took power in 2006, they vowed to abolish the law.
Opponents of the registry say most violent crime involves handguns.
While a repeal failed last year, the Conservative's new majority has a much greater chance of success.
The move faces opposition from gun-control groups and Parliament members from Quebec.
The registry gained support from both Canada's police chiefs and victims groups after the Montreal massacre in 1989, where 14 women were murdered by a man using a rifle at Ecole Polytechnique.
The law was passed in 1995 and went into effect in 2001.
Records destroyed
"The Harper government has stood on the side of law-abiding firearms owners, farmers, hunters, and rural Canadians in every region of this country," said Conservative MP Candice Hoeppner, who spoke a press conference announcing the legislation at Ontario farm.
Ms Hoeppner and other conservative lawmakers said the registry had wasted up to C$2 billion of taxpayer money.
They referenced a Statistics Canada report that said of 253 firearms used to commit murder between 2005 and 2009, almost 70% had never been registered.
According to Canadian publication Globe and Mail, the same report said that of 179 homicides using firearms in 2009, 24% were committed using rifles and shotguns.
The legislation will destroy all records created by the registry but criminal checks and safety course required to own firearms in general will still be in place.
Public safety critic Francis Scarpaleggia told CTV that some provinces might create their own registries if the bill is passed.
Government officials said such plans would not be countered, but it would not help in establishing a replacement registry.