US candidate Rick Perry 'may miss future debates'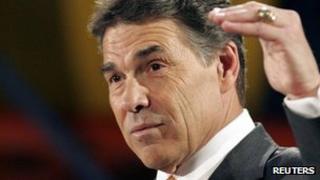 Rick Perry may skip some Republican presidential debates, according to campaign officials.
Mr Perry is confirmed for a debate on 9 November, one of more than half a dozen scheduled before the end of the year.
His performance at previous events has hurt his standing in the nomination race - he has said they are more about "stirring up" than true debate.
A recent poll of Republican voters saw the governor of Texas fall to fifth place among the candidates.
"We haven't said no, but we're looking at each debate," campaign spokesman Mark Miner told the Associated Press on Thursday, adding "while debates are part of the process, they're just one part".
Mr Perry does not hide his distaste for debating, preferring direct appeals to voters and an up-close style of campaigning that led to his successful gubernatorial campaign.
"These debates are set up for nothing more than to tear down the candidate," he told Fox News on Tuesday.
"So, you know, if there was a mistake made, it was probably ever doing one of the [debates] when all they're interested in is stirring up between the candidates instead of really talking about the issues that are important to the American people."
This week, Mr Perry released a tax proposal that included a 20% flat rate and cuts to business taxes.
Former governor of Massachusetts Mitt Romney, seen as a leading candidate because of his polling and fundraising numbers, is also not confirmed for any of the debates beyond 9 November.