Oklahoma shaken by 5.6 magnitude earthquake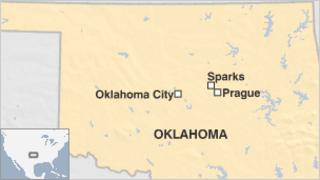 The US state of Oklahoma has been shaken by a 5.6 magnitude earthquake, thought to be the strongest in its history.
Some buildings cracked and a highway buckled, but there were no immediate reports of serious injury or damage.
The quake was centred near the town of Sparks, some 44 miles (71km) north-east of Oklahoma City, at a depth of 3.1 miles (5km).
It shook a packed football stadium at Oklahoma State University.
Nearly 60,000 fans were leaving the stadium having watched Oklahoma State's victory over Kansas State when the stadium shook for several seconds.
"Everybody was looking around and no one had any idea," said Oklahoma State quarterback Brandon Weeden, who was in the locker room with the other players at the time.
"We thought the people above us were doing something. I've never felt one, so that was a first," he told Associated Press.
The quake struck at 10:53pm local time (03:53 GMT Sunday) and followed a 4.7 magnitude tremor that had been felt near the town of Prague earlier on Saturday.
Observers say that if the 5.6 magnitude reading given by the US Geological Survey stands, then it would be the most powerful earthquake ever recorded for Oklahoma, which is more used to dealing with tornadoes.