Obama looks to cut costs by scrapping government 'swag'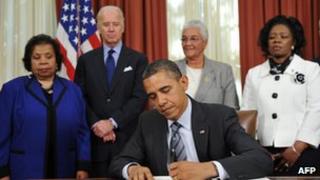 US President Barack Obama has ordered government departments to cut back on the number of branded mugs, t-shirts and key rings they give away.
Such items, known as swag, are paid for by taxpayers, and are used by the government to promote its work.
The president has also ordered government departments to issue staff with fewer electronic devices, such as smartphones and tablet computers.
It is part of a push to cut the cost of running Washington by $4bn (£2.5bn).
The executive order he signed on Wednesday gives the executive branch 45 days to develop plans to trim such costs by a fifth by 2013.
Other promotional items such as water bottles, watches and neckties are on the chopping block, too.
The White House has not put a figure on what these official trinkets currently cost the American people.
But the president's executive order concedes the giveaways are "frivolous".
Government bodies are also being encouraged to cut down on unnecessary official travel and conferences, limit the use of vehicles in Washington and publish information online to reduce printing costs.
The BBC's Steve Kingstone in Washington says that while most Americans will welcome the efficiency drive, it is telling that this is the best the White House could do right now to promote deficit reduction.
Our correspondent says the real debate is taking place in Congress - where a committee of Republicans and Democrats are trying to agree spending cuts of more than $1 trillion. But so far there is little sign of progress.