Dover body part whistleblowers 'faced retaliation'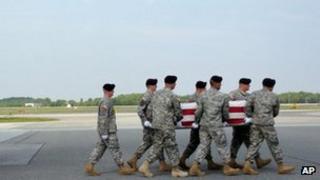 Three whistleblowers who reported lost remains at Dover Air Force base say they were "shocked and disturbed" by incidents there.
The mortuary workers told the Associated Press they faced retaliation for reporting the incidents.
But James Parsons, Mary Ellen Spera and William Zwicharowski all say that conditions have since improved at the largest military mortuary in the US.
Three supervisors involved in the complaints were censured but not fired.
Mr Parsons said he believed he was fired in September 2010 for refusing to cut off the arm bone of a deceased marine.
"It wasn't our decision to make, as far as I'm concerned," he told AP, adding the mortuary should have sought consent from the family.
He was quickly reinstated after he contacted the Office of Special Counsel, an independent federal body.
That office released a report on Tuesday, criticising the Air Force's own internal investigation for "failure to acknowledge culpability".
'Speak for them'
Ms Spera and Mr Zwicharowski said they received letters of reprimand after reporting incidents in which portions of remains went missing entirely.
Mr Zwicharowski was placed on eight months of administrative leave, but he said he did not know why.
However, all three mortuary workers said the problems had been fixed since they complained.
"Your loved ones can't speak for themselves when they come through here, but we are going to speak for them, and we're going to represent them," Mr Zwicharowski said.
Earlier in the week, the Pentagon confirmed that from 2003 to 2008, remains of some deceased soldiers that could not be identified were sent to a Virginia landfill.
The mortuary has since opted for burial at sea.
Defence Secretary Leon Panetta has ordered a special review of the Dover Air Force Base mortuary operations, which prepares US military casualties for burial.
The review will be completed within 60 days.
Mr Panetta said on Thursday that he had ordered the Air Force to consider stronger punishment after criticism of the Air Force's investigation to the incidents.