The scene at a cleared out Zuccotti Park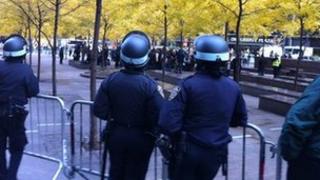 The barriers are still up around Zuccotti Park, lined with police in riot gear.
A few protesters made it back in after being cleared out during the small hours.
They scrambled over the wall and stood around for a bit, occasionally chanting "Banks got bailed out, we got sold out". One man waved a Chinese flag.
Organisers told me these people have jumped the gun and indeed the police soon kicked them out again without much of a fuss.
But I am told there will be a mass "Reoccupy" soon and I will update when I can.