Egypt to free three US students held in Cairo protests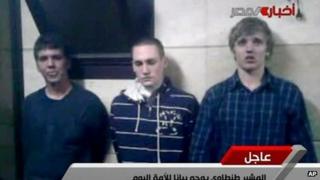 A court in Egypt has ordered the release of three US students accused of taking part in the protests in Cairo, officials there say.
Derrik Sweeney and Gregory Porter, both 19, and Luke Gates, 21, were accused of throwing petrol bombs at the security forces in Tahrir Square.
Mr Sweeney's mother told US media she was "absolutely elated" by her son's release.
The US state department said it was trying to confirm they would be freed.
The three students, whose photos were shown on Egyptian national television on Tuesday, are at the American University in Cairo on a study-abroad programme.
Mr Sweeney's mother, Joy, earlier told the Associated Press news agency his release was the best gift on Thursday's Thanksgiving holiday in the US.
"I was elated. I was absolutely elated," she said of the moment she learned he was to be freed. "I can't wait to give him a huge hug and tell him how much I love him."
She added: "I'm sure that he'll put a life-lesson learning experience into a positive story."
Ms Sweeney added that she hoped her son would leave Egypt on Friday.
Firebomb allegations
The teenager worked as an intern earlier this year for Missouri congressman Blaine Luetkemeyer.
The representative's spokesman, Paul Sloca, said Mr Luetkemeyer was "extremely pleased that he's safe and coming home, especially on Thanksgiving".
A spokesman for the US state department said on Thursday: "As we work to independently confirm reports regarding the potential release of three US citizens detained in Egypt, we remain in contact with them and their families, providing appropriate consular assistance.
"We appreciate the ongoing expeditious consideration of this case by the Egyptian authorities."
According to the Egyptian interior ministry, when arrested the students had been throwing firebombs at police from the roof of a university building overlooking Tahrir Square.
They had a bag allegedly containing a water bottle filled with petrol, the Egyptian official agency MENA reported.
On Wednesday, the Egyptian prosecutor general ordered the three to be detained for four days.
Mr Sweeney is from Jefferson City, Missouri, and studies at Georgetown University; Mr Gates, of Bloomington, Indiana, studies at Indiana University; and Mr Porter, from Glenside, Pennsylvania, attends Drexel University.
Dozens of people have died during days of protest in Cairo.
The demonstrators are demanding an end to military rule and a swift transition to civilian authority.