Man held over fatal shooting of woman at US hospital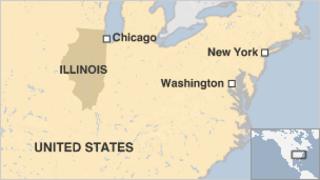 A man has been arrested in connection with the fatal shooting of a woman in a car park at the hospital of the University of Illinois, Chicago.
Police held a 47-year-old man after he was pulled over for a routine traffic check, the university said.
The suspect, a staff member at the hospital, was pursued on foot by an officer after fleeing the vehicle.
The woman, also an employee of the hospital, was pronounced dead at the scene after Thursday night's shooting.
The 48-year-old victim, whose name has not been released, was the suspect's ex-partner, police told the Chicago Tribune.
Investigators have recovered a gun, although they have not confirmed that the weapon was used in the shooting, said University of Illinois Medical Center spokesman Mark Rosati.
The hospital was temporarily locked down while a search was carried out for the gunman, before normal operations resumed at about 05:00 (11:00 GMT) on Friday.