Craigslist boy's mother says son is innocent of deaths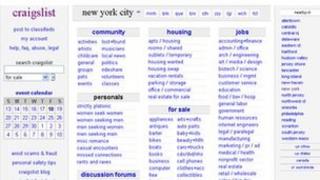 The mother of a 16-year-old boy held following the murder of three men who answered a Craigslist jobs ad in the US state of Ohio says her son is innocent.
He made a "bad decision hanging around the wrong person", she told ABC News' Good Morning America.
Police say respondents to the ad were lured to a remote location and killed for their belongings.
Another suspect, Richard Beasley, 52, is in custody on unrelated charges connected with prostitution.
The boy's mother said her son had looked up to Mr Beasley.
'Not a monster'
"I believe he put his trust in someone… he's a very smart kid but sometimes when you're not seeing the whole picture, you just believe that that person is going to lead you in the right way," she said.
The mother also told the Associated Press news agency: "My son is not a monster."
The teenager will be tried as an adult and could face 40 years in jail if found guilty, she added.
The bodies of three men have been recovered: David Pauley, 51, of Norfolk, Virginia; Timothy Kern, 47, from Massillon, Ohio; the third victim has not yet been identified.
A fourth man, from South Carolina, was shot in the arm, but escaped and informed the authorities.
Kern's body was found buried near a shopping centre in Akron, Ohio, while the two others had been buried in shallow graves in a rural location about 90 miles (145km) south of Akron.
The property in Noble County, where the two bodies were found, is owned by a coal company and usually leased to hunters, while the farm in the Craigslist advert does not appear to exist.
Police believe two deaths are connected to their inquiry, but have not said whether another body found Friday is linked.