US preacher Billy Graham admitted to hospital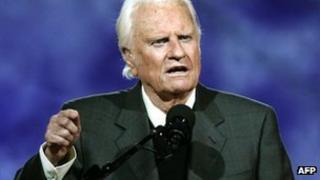 Reverend Billy Graham has been admitted to a North Carolina hospital for possible pneumonia, his spokesman said.
Mr Graham, 93, is a Southern Baptist preacher who shot to fame through his radio and TV broadcasts and has counselled a string of US presidents.
He was successfully treated for pneumonia in May.
Doctors at Mission Hospital in Asheville said Mr Graham had been admitted with congestion, a cough and fever, but his condition was stable.
"While no date has been set for discharge, Mr Graham is looking forward to returning home to spend the upcoming Christmas holidays with his family," a statement from the hospital said.
Mr Graham's most recent book, Nearing Home, was published last month, however, in recent years, macular degeneration and hearing loss have kept him mostly at home in North Carolina.