Herman Cain to make White House campaign announcement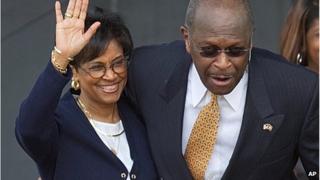 US Republican Herman Cain is expected to announce shortly whether his run for the White House will continue.
The Georgia businessman has been under mounting pressure to quit following an adultery allegation, which he denies.
He discussed with his wife, Gloria, on Friday whether to press on with his campaign, which has also been rocked by sexual harassment claims.
The former pizza executive has gone from obscure longshot to unlikely frontrunner to tabloid fodder.
While Mr Cain's ratings have slumped, support for former House of Representatives Speaker Newt Gingrich has surged.
Mr Gingrich has now overtaken Mitt Romney in some opinion polls on who should be the Republican candidate to challenge Barack Obama for the White House in November 2012.
'Sexual affair'
Mr Cain's campaign said there would be a "major announcement" on Saturday from Atlanta, Georgia, where he is due to open a campaign headquarters at 11:00 (16:00 GMT).
At a town hall meeting in South Carolina on Friday, Mr Cain - who led the Republican race barely more than a month ago - dismissed the stories about him as "garbage".
But the 65-year-old also said: "I am reassessing because of all this media firestorm stuff.
"Why? Because my wife and family come first. I've got to take that into consideration."
Mr Cain then went to his suburban Atlanta home for his first face-to-face meeting with Gloria, his wife of 42 years, since the adultery allegations came to light.
An Atlanta woman, Ginger White, 46, came forward on Monday to claim she had a 13-year affair with him.
Speaking to MSNBC on Thursday, Ms White denied they had been in love, saying: "It was a sexual affair - as hard as that is for me to say."
While rejecting any suggestion of an affair with Ms White, Mr Cain has acknowledged helping pay her monthly bills and expenses, and that his wife did not know about the friendship.
New poll crash
His crunch decision looms a month before Iowa holds the first of a series of state-by-state contests, known as primaries and caucuses, that will help pick the Republican nominee.
A new poll by the Des Moines Register newspaper in that state shows Mr Cain's support among Republican voters has plunged to 8%, from 23% in October.
The Cain campaign has been on damage-control mode since it emerged a little more than a month ago that a restaurant lobby group had paid settlements to two women who claimed he sexually harassed them while he was president of the organisation in the 1990s.
A third woman accused Mr Cain of making improper sexual advances, while another said he put his hand up her skirt in 1997 when she approached him for help finding work.
He has denied wrongdoing in all cases.
This week, his campaign unveiled a Women for Herman Cain webpage with testimonials from female supporters, led by Gloria Cain.
The former Godfather's Pizza chief executive - who has never won an election - was propelled by conservative Tea Party support to the front of the Republican field in October.
Portraying himself as a business-savvy, anti-establishment outsider, he captured the spotlight with his folksy charm and catchy 9-9-9 tax reform proposal.
But supporters were also alarmed when he made confusing comments about abortion and badly fumbled a question on Libya policy in a recorded interview.