Serial killer Anthony Sowell's Cleveland home razed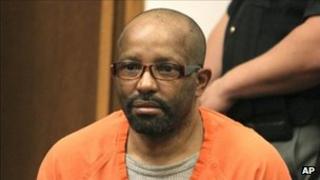 Convicted Ohio serial killer Anthony Sowell's home, where he dumped the remains of 11 women, is being pulled down by city authorities.
It is hoped that tearing down the so-called "house of horrors" in Cleveland will help deter gawkers and bring closure for victims' relatives.
Demolition crews on Tuesday began razing the three-storey property, which was condemned in September.
Sowell, 52, was sentenced to death. He is appealing his August conviction.
In 2009, police found 10 bodies and a skull at the rundown house while investigating reports that a woman was raped there.