US preacher Billy Graham released from hospital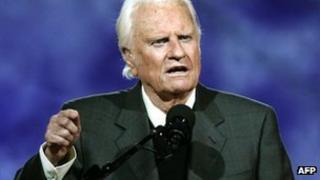 US evangelist Billy Graham has left a hospital in Asheville, North Carolina, where he was treated for pneumonia.
His course of antibiotics worked successfully, Mission Hospital spokeswoman Nancy Lindell said.
But the 93-year-old preacher, well-known for his radio and TV broadcasts, will continue to receive physical therapy at home, doctors say.
Six days ago Mr Graham was admitted to hospital with symptoms of congestion, a cough and fever.
Mr Graham has been a household name as over more than six decades as a preacher, with a large following from diverse denominations of the Church.
He has preached to more than 200 million people worldwide and counts past and present US presidents as his friends. Mr Graham gave his last sermon in New York in 2005.