Euro crisis: Dread of meltdown stalks US economy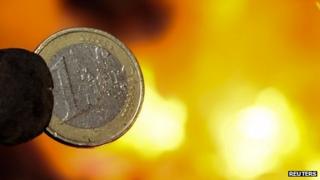 Just when things were starting to look up, the euro crisis is back in the headlines.
The American economy has been riding high on a wave of moderately good news.
The unemployment rate is at its lowest level in two and a half years, manufacturing appears to be picking up and early reports suggest that the holiday shopping season is off to a strong start.
But whatever recovery there is could be derailed by a looming crisis: Europe's debt drama.
America's finances are closely tied to what happens across the Atlantic, and the picture is not rosy.
"The situation in the euro area is rapidly deteriorating and contagion is spreading," said Pier Carlo Padoan, the chief economist of the Organisation for Economic Co-operation and Development (OECD).
The OECD recently released its semi-annual report on the global economy, which predicted that America could follow the eurozone into recession if Europe's debt crisis worsens.
Trade tremors
The Paris-based think tank also reduced its growth forecast for the world's largest economy to 2% in 2012.
Just six months earlier it was expecting an expansion of 3.1%.
The eurozone is the single biggest customer for American goods, so if they're not buying, US businesses suffer.
General Motors has already taken a hit. In November, the Detroit car giant reported a 12% drop in third-quarter earnings. The company blamed much of that decline on slower sales and higher costs in Europe.
"Clearly, things have deteriorated," said GM Chief Financial Officer Dan Ammann when the numbers were released.
"We need to adjust to the new reality."
The appliance maker Whirlpool is also struggling. With demand slacking off in Europe the company is planning to lay off more then 5,000 workers in North America and Europe.
"We are taking necessary actions to address a much more challenging global economic environment," Whirlpool chief executive Jeff Fettig said.
'Shattering'
Small companies are not immune to potential eurozone fallout either.
Crisis jargon buster
Use the dropdown for easy-to-understand explanations of key financial terms:
AAA-rating
The best credit rating that can be given to a borrower's debts, indicating that the risk of borrowing defaulting is minuscule.
Amy Galper founded the organic cosmetics company Buddha Nose. Roughly a quarter of her profits come from Europe.
In a beauty pop-up shop in New York City's West Village, Ms Galper chatted with Kim D'Amato, the brains behind the skincare line Priti NYC.
Ms D'Amato spends part of her year in France so she can be closer to overseas clients.
Surrounded by creams that promise to smooth away stress and tension, neither woman can ignore the fear of what a meltdown in Europe could mean for their businesses.
"I would say that most of the people I sell to are small businesses," says Ms D'Amato. "So it would be shattering."
Ms Galper, whose sales to Japan dried up after its devastating earthquake and tsunami in March, took the pre-emptive decision to cut her inventory - just in case.
"I'm kind of being conservative to be honest," Ms Galper says. "I'm not going to stock up too much because I don't want to have an overstock of things."
Follow the money
But even if exports to Europe did dry up overnight, there are more dire threats out there.
"More important are the financial linkages that could really hurt the economy," warns Carey Leahey, managing director of Decision Economics.
Put simply: a complete European meltdown could kick off a chain reaction that might lead to a global credit crisis.
Investors are already spooked and their fear has been driving down the share prices of some of the biggest names on Wall Street.
JP Morgan closed down 1.7% on Tuesday, despite being considered one of the strongest American banks.
So far, the worst has been averted.
The collapse of the medium-sized broker MF Global last month and the bailout of the Franco-Belgian bank Dexia in October has not come anywhere close to causing the kind of damage seen after Lehman Brothers collapsed.
But last week's action by America's Federal Reserve to band together with other nations' central banks to lower the cost of borrowing dollars suggests that another credit crunch could be lurking, making it harder for businesses and individuals to get loans.
That is when Europe's problems become everyone's problems.